Capocollo
Capocollo or coppa, is a traditional Italian cold cut (salume) made from the dry-cured muscle running from the neck to the 4th or 5th rib of the pork shoulder or neck. This cold cut is sometimes called coppa. The name capocollo comes from capo ("head") and collo ("neck") of a pig. The Italian word "capocollo'" is of Tuscan origin. It is a whole muscle salumi which is dry cured and typically sliced very thinly. It is similar to the more widely known prosciutto, because they are both pork-derived cold-cuts that are used in similar dishes.
In its production, capocollo is first lightly seasoned, often with red and sometimes white wine, garlic, and a variety of herbs and spices that differ depending on region. The meat is then salted (and traditionally massaged) and stuffed into a natural casing, and hung for up to six months to cure. Sometimes the exterior is rubbed with hot paprika before being hung and cured. Capocollo is essentially the pork counterpart of the air dried, cured beef bresaola. Capocollo is esteemed for its delicate flavour and tender, fatty texture. It is often more expensive than most other salumi. In many countries it is sold as a gourmet food item. Usually sliced thin for use in antipasto or sandwiches such as muffulettas, Italian grinders, subs, and panini as well as some traditional Italian pizza.
Cotechino
The cotechino is an Italian charcuterie product, similar to salami, but requiring cooking; usually it is boiled at low heat for about 1 hour. Its name comes from cotica (rind), but it may take different names in the different production areas. According to tradition, it is served with lentils on New Year's Eve, to bring luck for the coming year.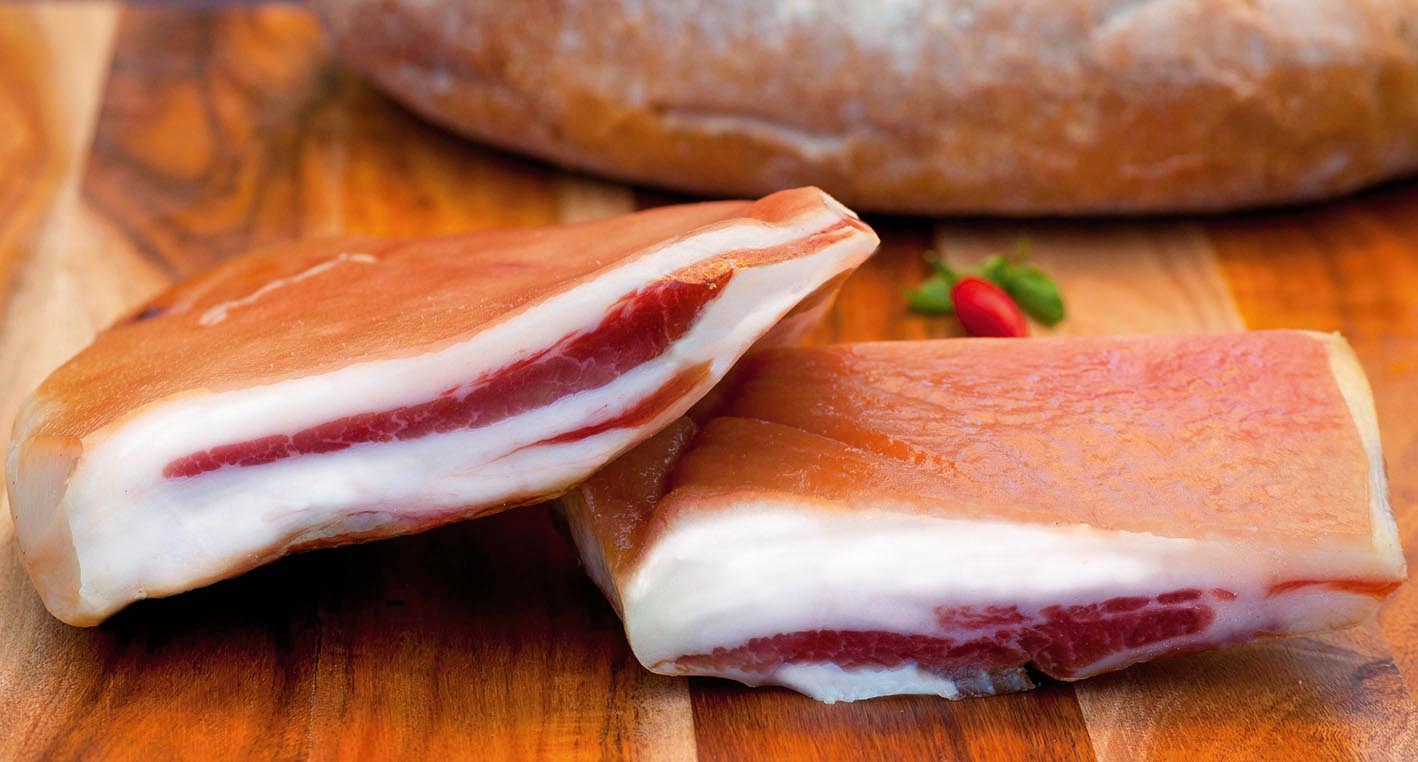 Guanciale
Guanciale is prepared from pork jowl or cheeks. Its name is derived from guancia, Italian for cheek. Pork cheek is rubbed with salt, and spices and cured for 3-5 weeks or until it loses approximately 30% of its original weight. Its flavour is stronger than other pork products, such as pancetta, and its texture is more delicate. Upon cooking, the fat typically melts away giving great depth of flavor to the dishes and sauces it is used in. Guanciale may be cut and eaten directly in small portions, but is often used as a pasta ingredient. It is used in dishes like spaghetti alla carbonara and sauces like sugo all'amatriciana. It is a specialty of central Italy, particularly Umbria and Lazio. Pancetta, a cured Italian bacon which is normally not smoked, is sometimes used as a substitute when guanciale is not available
Bresaola
Bresaola is air-dried, salted beef that has been aged for two or three months until it becomesa medium to dark red, almost purple colour. It is made from top (inside) round or better known as topside and also from silverside, and is lean and tender, with a sweet, musty aroma. It originated in Valtellina, a valley in the Alps of northern Italy's Lombardy region.
Culatello
Culatello is a refined variety of prosciutto, made from heavier pigs, cut to a fraction of the normal prosciutto and aged, and may be cured with wine, like culatello di Zibello.
If there is a King of salumi, it's definitely Culatello. Many might think that honor belongs to Prosciutto di Parma, with it's 5 pointed crown branded onto it's skin, but in reality, those in the know, understand that Culatello is the true King of Salumi.
Salame Norcia – Finocchiata/Piccante/Norciana
Salame Norcia originated from Norcia a town and commune in the province of Perugia (Italy) in southeastern Umbria.
Salame from Norcia have long been considered some of the best in Italy and therefore is a very prized type of salame.
We have 3 types in the De Palma range. The finocchiata, piccante and traditional norciana.
With an amazing taste and flovour that leaves your palette feeling smooth and wanting more this salame is slow fermented and left to dry up to 3 months before being ready.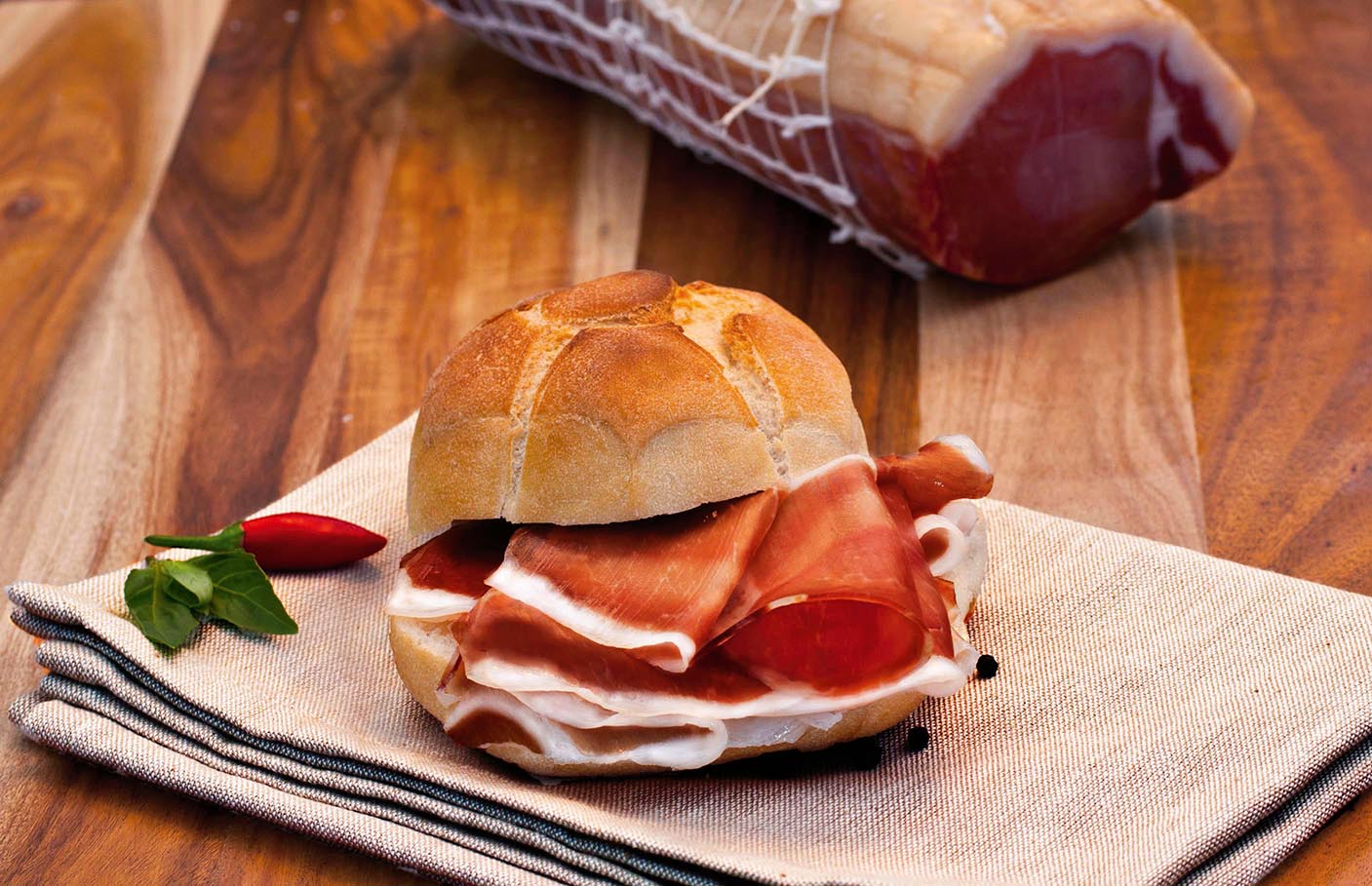 Lonza Stagionata
The eye loin of pork, marinated and air-dried in controlled cellars between 3- 5 months to obtain its intended flavour. It is a very lean product ideal for the diet conscious and eaten as is, in thin slices. A popular sandwich ingredient and can also be served as part of antipasti platters or as a Pork Carpaccio.
Pancetta Stesa
Italian bacon made of pork belly that is salt cured and spiced with black pepper and other spices. For cooking, it is often cut into cubes. It is also served as a cold cut, sliced thinly. There are two basic types of Pancetta, the ″arrotolata" (rolled) and "stesa" (flat). The "arrotolata" is mainly used sliced as part of antipasti, the "stesa" is often used chopped as ingredient in many recipes such as pasta dishes or salad dishes but can also be sliced thinly and used to roll around other things like bread sticks etc, as well as been served as an antipasto. The rolled type is typical of northern Italy, while the flat is typical of central and southern Italy.
Prosciutto Crudo
Prosciutto is a dry-cured ham that is usually thinly sliced and served uncooked; this style is called prosciutto crudo in Italian and is distinguished from cooked ham, prosciutto cotto. Commonly associated with Friuli and Emilia, the most renowned and expensive legs of prosciutto come from central and northern Italy, such as those of Parma, and San Daniele, in Friuli-Venezia Giulia
Roman Sausage
Pure premium pork cuts are used for our sausages and sausage mince. Pork rump and butt filets are only the very best. From a family recipe over 200 years old and all natural spices we are passionate there is no comprising on quality. Made fresh to order every week.
Impasto: Roman sausage mince
Not in casings. Can be used in many ways on pizzas and in pasta sauces like bolognese. It can be fried up on its own and tossed through hot pasta. It can also be made into meatballs. When cooked it turns a beautiful pink colour, moist and full of flavour.